We have recently updated this site to improve security. As a result you may need to reset your password next time you log in. Simply click the Reset Password link and follow the instructions. Sorry for any inconvenience.
I found a pig!
Gunny
Junior Member
Hi everyone. I just signed up on the site to ask some questions and get some information. I live in the country and have horses and yesterday I had a new addition to my pasture....a pig! He was out standing with one of my horses and really seeming to enjoy being with him. My one horse who is very rightly named Buddy was definitely budding up to him, lol. Now my other horse is terrified of this new Pal. I tried to coax the horses down to the barn and only Buddy and the pig would come so I put the pig in one of my stalls so I could try to find his owner. 24 hours later still no luck. I reported it to the sheriffs office and no one seems to be missing him yet. I thought he might have came from the property behind me and when we got to talk to the ppl that have horses there they said it wasn't their pig but it showed up at their property back in the winter and they had been feeding it but no it wasn't their pig. Seemed like they were saying..."it's at your house, it's your pig now." So now I guess I will try to find this fella a proper home.
This is a male pig and doesn't look that old to me, not that I know the first thing about pigs though. I looked at a few pics on the web and pigs being different from horses he does look to be an intact male. He seems quite friendly like he has been treated as a pet but I'm still not totally confident around him yet. Been in the stall with him and been giving him tons of scratches which he seems to love but keeping an exit strategy ready, lol. Also went to the feed store and got him some food so he is quite the happy pig.
Anyway can anyone give me some advice. Do male pigs get aggressive? If I post a few pics would anyone be able to tell me what kind of a pig this is? Maybe have a guess at his age? Or any other advise you guys can think of or maybe warn me to watch out for until I find him a good home would be much appreciated.
Pig hanging out with his new pal Buddy. You can see my other horse is not impressed, lol.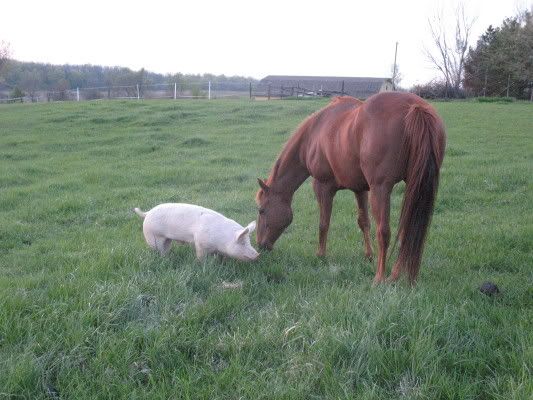 My hubby who was giving him some good old scratches.